An art graduate based in Somerset, UK, Karen began her career in Graphic Design, working at several studios before setting up her own business. In 2004 she took a side step into digital marketing, but over the last few years has rekindled her more painterly creativity. As well as art, nature, and plants, her other interests include psychology,  photography, history, and vintage artifacts.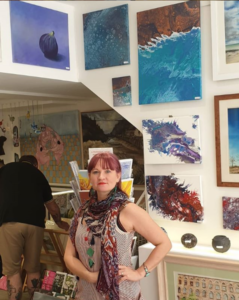 A passion for nature and psychology inspires much of her work, lending itself to still-life, mixed media, and abstract expressionism. On top of this, her vast collection of colourful ornamental glass provides much subject matter. Inspired by the intricacies of life, she translates the common grounds of the human experience into visual stories, both as pieces for direct aesthetic satisfaction and for deeper contemplation by the viewer.
Her work is developing through organic growth and dynamic output which manifests in varying formats and mediums. Works can be found in oils, acrylics, watercolours, and mixed media.
Original artworks and prints are available for purchase direct from the artist (please email or DM via social channels) and many pieces are on display at the Talent Gallery, Wellington. Local and international shipping is available upon request. For all enquiries, please e-mail: [email protected]
Commissions considered, please email for enquiries.